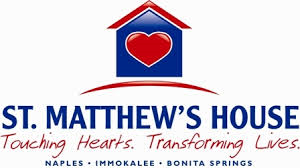 NicheLocal Aids St. Matthew's House in their Mission as "The Taskforce for the Homeless"
By: Todd Withrow | October 10th, 2014

About the Company:
St. Matthew's House has been touching hearts and transforming lives since 1988.They are a 501(c)(3) charitable organization with a mission to provide housing and food for the homeless and needy. They offer many different programs, all geared toward changing lives in a structured and understanding spiritual environment.
Inspired by a Bible study focused on the book of Matthew, a group of parishioners noticed an article in the Naples Daily News about a homeless population living in the woods. The takeaway message of the Bible Study was that Jesus explained to his disciples that taking care of the underprivileged is just as much of a priority, if not more, than taking care of him. With this scripture fresh in their minds, "The Task Force for the Homeless" was born; the parishioners began delivering soup to those taking refuge in the woods of Naples.
Client Challenges & Goals:
At NicheLocal , becoming an expert in our client's industry is an everyday affair. We are experienced in truly gaining a thorough understanding of our client's wants and needs and implementing them while keeping the client in the loop every step of the way. St. Matthew's House is in need of a new site that is effective in conveying its mission and gives them a better presence in the community; they need to spread their name and obtain more inbound traffic. They have hired NicheLocal build a new site that will:
Help them promote and accept donations
Grow their volunteer base
Encourage people to tour their facility
Encourage visitors to sign up for their email newsletter
Give them a solid presence over multiple social media channels
NicheLocal Proposed Solutions for St. Matthew's House
St. Matthew's House offers many different programs. It is NicheLocal's goal to convey the different programs, benefits, and mission by providing the non-profit with a comprehensive custom website build and design that allows users to navigate with ease. We will be providing a CMS (Content Management System), Ecommerce integration, and SEO (Search Engine Optimization) that will ensure that the site is as user-friendly for the St. Matthew's Team as it is for their visitors. Our goal is to make sure that our client has everything they need to attract their target audience and spread their message.