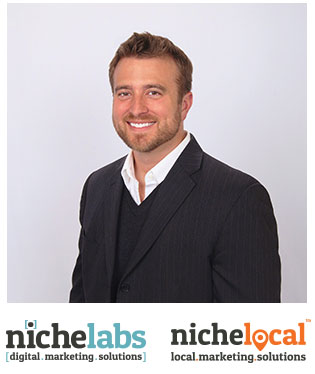 Determined to create the ideal website design and marketing company to meet the specific needs of startups and small businesses, Todd Withrow launched NicheLocal, a local one-stop-shop for the essential marketing and advertising needs of small businesses. In one location, NicheLocal provides professional website design; search engine and social media optimization; graphic design, branding, logos, and direct mail; and other website add-on services such as e-commerce, security and payment solutions; and website hosting, email and domains.
With over twenty years of experience managing website development projects and online marketing and advertising programs for businesses, Todd and his team have collectively developed over 10,000 websites. Maintaining an unwavering commitment to client service, the professionals at NicheLocal produce superior, competitively priced, state-of-the-art business websites for their small business clients.
The Development of the NicheLocal Vision
Todd Withrow was employed during and after college for five years at Tradeware, a privately held securities software development firm. He graduated with honors from the Atlanta Art Institute in 1998, where he was awarded "Best Portfolio" of his class. Todd's creative expertise and leadership qualities quickly gained him recognition at Tradeware, where he was promoted from production artist to a challenging position of expanded responsibility for operations management. Under Todd's leadership, the company's multimedia and marketing department was formed. So successful was this department that it later became an independent company, Digital ArtifeX, with Tradeware as its parent.
Recognized for creativity, innovation and leadership, Todd was recruited by one of the largest website development companies in the world. Rapidly rising through the ranks, Todd moved from managing the production of multi-faceted websites for small and medium size companies, to online sales. As an online solution sales representative, he led his team to record breaking sales, and eventually was asked to become their sales manager.
In 2006, Todd founded NicheLabs LLC, a full-service Atlanta-based website design and online marketing solutions company. Todd built and developed NicheLabs for the next five years and enjoyed continued growth serving larger companies.
NicheLocal is launched
As NicheLabs grew, Todd realized he was outgrowing his initial focus on providing website design and marketing services to start-ups and small businesses. With a vision to create the perfect small business online marketing and advertising company, Todd launched NicheLocal. The NicheLocal team brings years of custom website development, online marketing, and advertising expertise together in one place. It is a state-of-the-art online marketing company with a solid track record of success. You can rely on the team at NicheLocal. They are committed to offering local small business marketing solutions that are perfectly suited to you and your small business!
NicheLocal is American owned and operated
NicheLocal is willing to sacrifice potential profits in order to make sure the work they do for you stays right here in the United States. That means no outsourcing of website design and development work to people in foreign countries. NicheLocal wants your American dollars to stay here in support of local businesses and families.