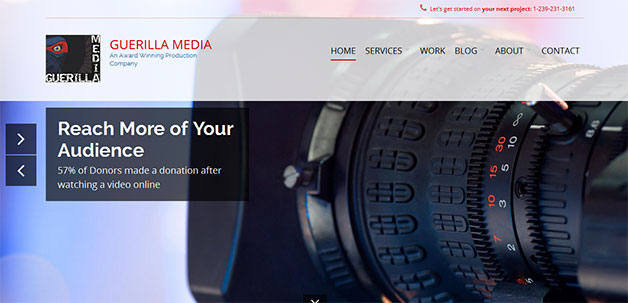 Guerilla Media
By: Todd Withrow | June 25th, 2015
When video production powerhouse Guerilla Media needed a powerhouse web design and marketing firm to launch their new company, they selected NicheLocal to set up their new company website. Founders Hope Daley and Matt Dykes are a dynamic married couple with a long and awarded background in national television and radio broadcasting. In 2011 they decided to take the leap to open their own mainstream video production company aimed at serving businesses and with the help of NicheLocal and lots of talent and hard work, they have had a thriving launch.
Guerilla Media offers a wide variety of video products for businesses that include commercial spots, video bios, training videos, product demonstrations, client testimonials and much more. Although Guerilla Media is a full service production company that has produced award winning weekly television programs they offer specialized, cost-effective and SEO boosting packages for businesses with fun names including "Welcome to the Jungle", "Monkey Business", "Go-Go Guerilla", and "The Kong".
Guerilla Media tailors its packages to welcome even the smallest business and its core business is serving entrepreneurs and businesses of all shapes and sizes. Their customers include individuals, artists, inventors, musicians, pastors, and corporate clients. You name it and they can do it in a fresh and unique way, helping anyone and everyone who has a message to get out. The couple operates based on their core values of honesty, trust, integrity and in the spirit of truly wanting to help others which is what makes them happy. That is why each project is a labor of love for this team and shows in every finished project and happy client.
This media company is different from others because they are singularly focused on one thing high quality, cost effective video production. They also add a lot of value to their service by helping to promote their customers across the internet and social media platforms at no charge. Each client is blogged about, posted in specific target groups on LinkedIn, shared on Facebook, You Tube, and a variety of other video distribution sites as appropriate based on their content.
When it came time to forge ahead with the new business, Hope and Matt chose NicheLocal to launch their new company website. The site was heavy on the video side of production and multiple challenges were overcome in this learning process. In addition to designing Guerilla Media's logo, NicheLocal also designed their business cards which are unique to the owners, Hope Daley and Matt Dykes. Separately, you only see part of the picture half a gorilla face. But when the cards come together, it shows the complete face of a masked superhero gorilla, the mascot that commemorates their 800 pounds of branding power slogan. NicheLocal also custom designed Guerilla Media's website and video integration into a content management system.
For more information on Guerilla Media, call 239-293-2766 or text "GMedia" to 97063.