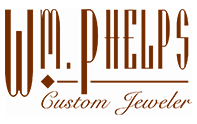 Portfolio: Phelps Jewelers
By: Todd Withrow | December 5th, 2012
How a silversmith who started business in a tent became one of Southwest Florida's premier custom jewelers
People commission custom jewelry because they want something one of a kind. If the designer's own story is unique, so much the better. When it comes to uniqueness, few can top the history of Wm. Phelps Custom Jeweler of Venetian Village in Naples, Florida.
Known throughout Southwest Florida for their world-class platinum and gold designs adorned with precious stones, the Phelps were not always so well known. Nor were they always in such a luxurious location as Naples. In fact, the humble beginnings of the company founded by the parents of the current owner, John Phelps, had humble origins in 1974 in a tent at the foot of Loon Mountain in rural New Hampshire.
How Bill and Lois Phelps gave up their comfortable life in Massachusetts and moved their four children to their tiny New Hampshire vacation home, sold custom silver jewelry from a tent and 13 years later were making fabulous jewelry from a shop in beautiful Naples, Florida, is what American dreams are made of.
When John and Jennifer Phelps told their story to Todd Withrow, NicheLocal CEO, he suggested they tell it on their website, in place of a conventional About Us page, in the form of a flipbook.
They gathered together photos that showed the history of the company and told their story to NicheLocal's copywriter, who wove the tale. NicheLocal's designer gave the copy a storybook look and feel. He then created a PDF of the book. Using special software, NicheLocal's developer then embedded the book onto the Wm. Phelps Custom Jeweler About Us page.

Anyone who visits the Phelps' site can read the story as if reading a real book. One click makes the flipbook full-screen size. Discreet arrows on each side enable a reader to turn the pages in either direction, accompanied by sound effects that sound like the pages of a real book.
Upon seeing their family history told in this fashion, Jennifer Phelps said, "We were really moved and thought it was beautiful."
The story and the book are indeed beautiful, as you can see here: http://phelpsjewelers.com/?page_id=7.
Now anyone considering the investment in a piece of custom-designed jewelry will know the story too. Since the Phelps create jewelry destined to become family heirlooms, one can imagine the story of their own humble beginnings becoming part of the lore that lives with each of their creations.
Is a flipbook right for you?
Flipbooks can be very effective if used to add to what you are doing. If you have a story to tell, an online catalog or a portfolio of work, a flipbook might be just the thing. If you would like information on how a flipbook can make your website more interesting, please email us at sales@nichelocal.com or call 866.413.7952.